20K/25K/28K/40K 1500W Frequency Tracking Ultrasonic PCB Generator For Cleaning Parts
Ultrasonic power source is usually called ultrasonic generator, ultrasonic generator. Its function is to convert electrical energy into a high-frequency alternating current signal matching the ultrasonic transducer. From the form of amplifying circuit, linear amplifying circuit and switching power supply circuit can be used, and high-power ultrasonic power supply generally adopts the circuit form of switching power supply considering the conversion efficiency. The linear power supply also has its unique application range. Its advantage is that it does not require strict circuit matching and allows the operating frequency to change continuously and rapidly. From the current situation in the ultrasound industry, ultrasound is mainly divided into self-excited and externally excited power supplies.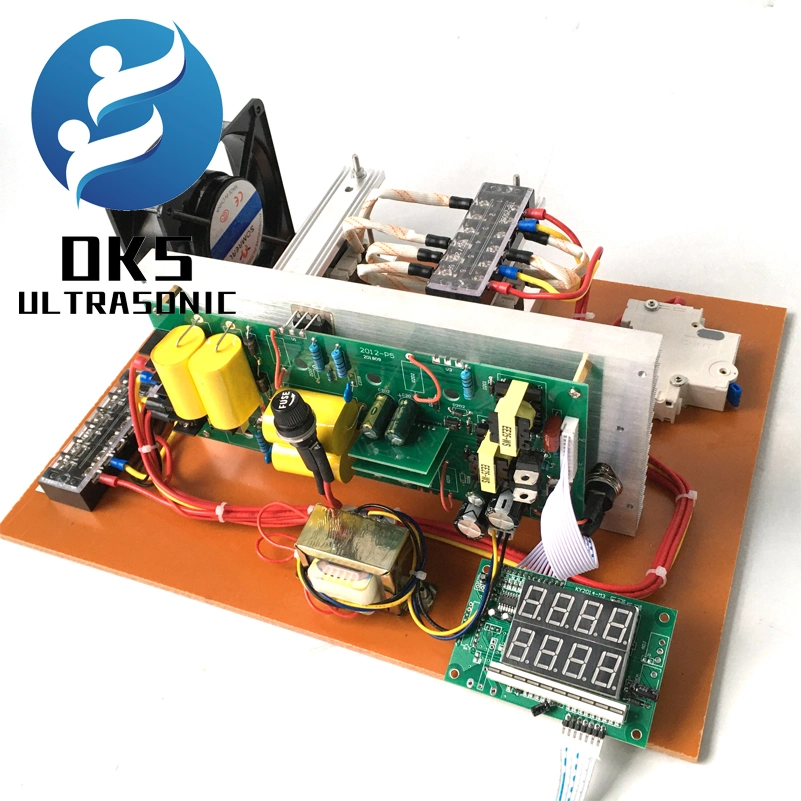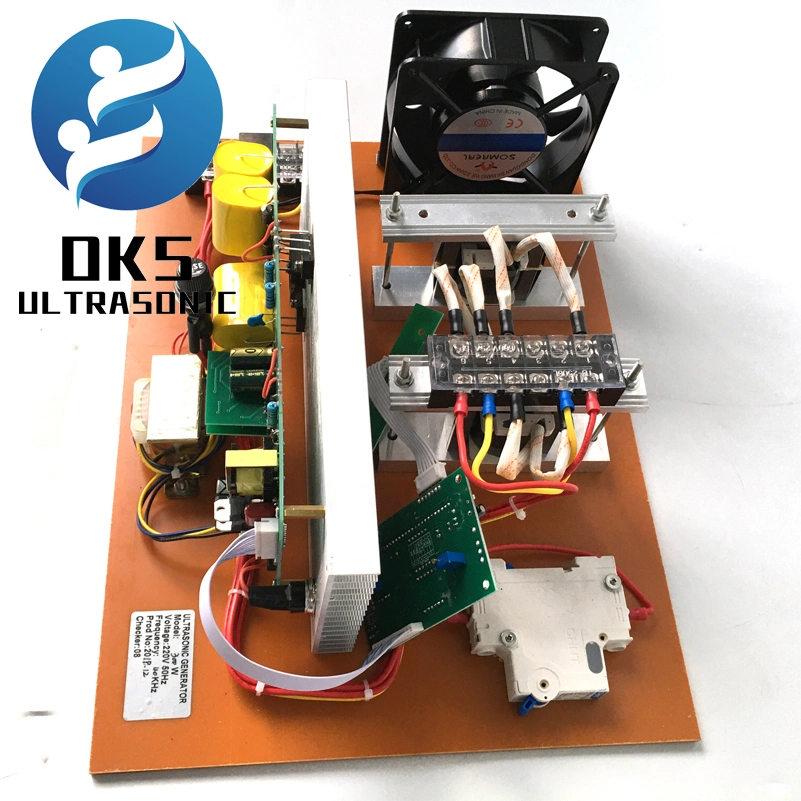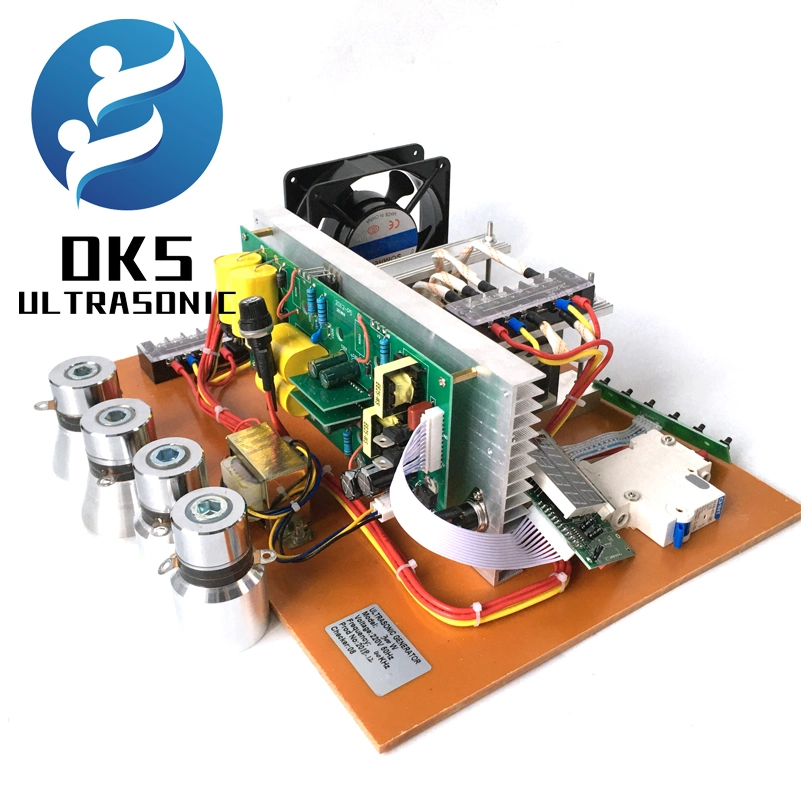 Type
Frequency
Power
Dimension(mm)
OKS-SXMBJ300
19khz-48khz adjustable
300W
350×300×140mm
OKS-SXMBJ600
19khz-48khz adjustable
600W
350×300×140mm
OKS-SXMBJ900
19khz-48khz adjustable
900W
350×300×140mm
OKS-SXMBJ1000
19khz-48khz adjustable
1000W
350×300×140mm
OKS-SXMBJ1200
19khz-48khz adjustable
1200W
350×300×140mm
OKS-SXMBJ1300
19khz-48khz adjustable
1300W
350×300×140mm
OKS-SXMBJ1500
19khz-48khz adjustable
1500W
350×300×140mm
OKS-SXMBJ1800
19khz-48khz adjustable
1800W
350×300×140mm
OKS-SXMBJ2000
19khz-48khz adjustable
2000W
350×300×140mm
OKS-SXMBJ2400
19khz-48khz adjustable
2400W
350×300×140mm
OKS-SXMBJ2500
19khz-48khz adjustable
2500W
350×300×140mm
OKS-SXMBJ2600
19khz-48khz adjustable
2600W
350×300×140mm
OKS-SXMBJ2800
19khz-48khz adjustable
2800W
350×300×140mm
OKS-SXMBJ3000
19khz-48khz adjustable
3000W
350×300×140mm
Ultrasonic PCB generator could to 3000W,welcome send the enquire
600W-3000W Ultrasonic PCB frequency adjustable,with display board
Above ultrasonic PCB generator 110V-120V or 220V-240V are available,contact with us during your order with detail request
Generator use:
Using the latest external excitation control circuit, the ultrasonic density is greatly improved, the cleaning work is more detailed, and the cleanliness is higher. The ultrasonic power generator has a frequency sweep function. During the cleaning process, the ultrasonic frequency is swept back and forth within a reasonable range to drive the cleaning liquid to form a fine backflow, so that the dirt on the workpiece is quickly removed from the surface of the workpiece while being ultrasonically peeled, improving the cleaning efficiency . Original imported high-power tube drive, up to 95% power factor, to ensure strong output power. It can also quickly remove dirt with strong adhesion. Under working condition, real-time frequency tracking is realized. Ensure that when the water temperature, the number of workpieces, and the cleaning agent change, when the frequency of the transducer changes, the generator can automatically track the frequency at any time to achieve the best working condition that matches the frequency of the transducer.
Generator characteristics
1. Frequency sweep function: The frequency sweep circuit advanced in the international market can effectively protect the vibration plate;
2. All power output components IGBTs are imported components, which have the advantages of small size, high power and fast response;
3. Power tube: adopt imported Japanese Toshiba 90A/1200V imported tube to prevent tube burning;
4. Unique sealing anti-corrosion technology to ensure long-term stable and reliable operation of internal circuit boards;
5. The externally excited control circuit has an output power of over 97%, which greatly increases the ultrasonic cavitation density;
6. The output current is a sine wave, which can prolong the service life of the transducer and the generator itself;
7. Wide range of matching frequency: 20KHZ-42KHZ adjustable, suitable for various transducers (factory setting);
8. Constant output design, the output current ripple is small, the output is more stable, and the transducer is protected from damage;
9. Output over current and short circuit protection can protect the generator power tube.
20K/25K/28K/40K 1500W Frequency Tracking Ultrasonic PCB Generator For Cleaning Parts